---
Art and Life
Claire Fejes 1920 – 1998
Born in New York to immigrant parents from Austria and Poland, Fejes' artistic life was forged by the Depression years. She received her art training through museum-based Works Progess Administration (WPA) arts projects in Manhattan, intending to work as a sculptor. Married in 1942, she moved with husband Joe Fejes to Fairbanks, Alaska in 1946 – from New York's Bronx to a log cabin in a sub-arctic frontier town. She abandoned sculpture as impractical in rural Alaska, turning to oils.
For a decade, Fejes painted on a small kitchen table near the cabin's wood stove: self-portraits, nudes, the neighbors, scenes from the valley and woods. Local Athabascan and Inuit women sat for her, and Fejes grew fascinated with their stories and the subsistence life they described far from town.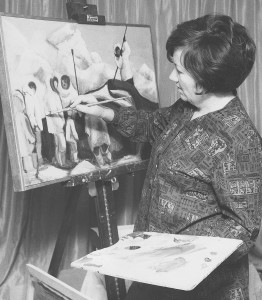 One winter, she said, it was so cold, she painted in lined boots, long underwear, pants and two sweaters. In the spring, she realized all her paintings had stoves in them. In 1958, she made a life-changing decision. Packing her painting supplies, a tent, and some food, she traveled to Sesaulik, an Inupiat whaling camp on Alaska's arctic coast. The experience was transforming. Upon her return she produced twenty oils, dubbed the Sesaulik 20, in a rush of creativity, working with a palette knife on masonite. The experience defined her style – unplanned, swift, and emotionally intense – based on a deep immersion in her subject. The Sesaulik 20 captured interest beyond Alaska. Seattle's Frye Art Museum invited Fejes to mount a one-woman show, and its good review led to a solo exhibit at the Roko Gallery in New York.
From the kitchen table to the living room, then to a spacious studio overlooking the Chena River, Claire Fejes' work space was a world away – no phone, no long lunches, few visitors – just hours on her feet, working up to three palettes at a time. She might finish a canvas in a day, or keep it where she could see it for years, waiting to see what else it needed. Bach, Vivaldi, and Beethoven in the background; painting always first. She painted and she wrote. Fejes wrote regularly in journals from childhood until her death, publishing four books about her travels, painting, and life in Alaska. Claire and husband Joe began the Alaska House Art Gallery in 1963.
In her last decade, Fejes spent winters in New York and San Diego, and her summers in Alaska. As she had for half a century, she wrote and painted in Fairbanks. She painted everyday lives, immersing herself in her subject, studying, sketching and taking notes, then painting what she'd experienced swiftly, emotionally and intuitively. Of Alaska, she said:
"This is my inspiration. I don't feel like painting in New York or any other place. This is where I'm inspired by the people and the land. This is my inspiration here. It just comes pouring out of me when I'm here. When I'm any other place, I don't even want to paint."
Permanent Collections:
Archer M. Huntington Museum, Texas
Anchorage Museum of Art and History
Cincinnati Art Museum
Frye Art Museum, Seattle
Alaska State Museum, Juneau
University of Alaska Museum, Fairbanks
Explorers Club, New York
Governors Mansion, Juneau
Ben Zion Collection, New York
Tanana Valley Clinic, Fairbanks
Noel Wien Memorial Library, Fairbanks
Sheldon Jackson Library, Sitka, Alaska
Laurence Blodell Estates, Massachusetts
Anchorage Center
Nagoya Museum, Nagoya, Japan
Christian Chapel, Nagoya, Japan
Nippon Chemical Sales, Tokyo, Japan
Marilyn Horne Private Collection
James Michener Collection, Texas
West Point Museum, New York
Williamstown Museum, Massachusetts
Acknowledgements and Awards:
Who's Who of American Women
World Who's Who of Women
American Artists of Renown
Contemporary Authors Award
Gold Medal from the Institute of Human Potential, 1981
Honorary Dr. of Humanities Degree from the University of Alaska, 1982
The Explorer's Club, 1986
Publications:
People of the Noatak, Alfred A. Knopf, 1966
Enuk My Son, Pantheon Books, 1969
The Villagers, Epicenter Press, 1981
People of the Noatak, Volcano Press, 1994
Cold Starry Night, Epicenter Press, 1996
---
Claire Fejes: Author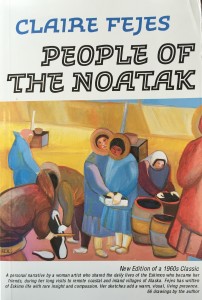 Fejes' habit of recording her thoughts and experiences began early. When she was about six, her father gave her an 'empty book' to write in. Decades later, in Alaska, she took up writing with characteristic energy. Her extended visits to whaling camps and Inupiat villages resulted in a first book, People of the Noatak, published in 1966 by Alfred A. Knopf. She also wrote and illustrated a children's book, Enuk My Son.
In her fifties, Fejes traveled more around Interior Alaska, following the Yukon and Tanana Rivers to experience and paint village life among the Athabascan people. She stayed with many old friends from Fairbanks, and with their friends and families, sketching, and recording her thoughts. They resulted in a second book – Villagers, from Random House in 1981. A last book – a memoir – was called Cold Starry Night, published by Epicenter Press in 1996.
Claire was also featured in the January 1990 issue of Southwest Art, and the article by Leslie Barber Noyes features a candid interview that conveys Claire's interests and feelings about her artwork in her own words. Claire Fejes' story is also featured in a video called Source of Life which traces her life from Depression-era Brooklyn to Fairbanks, Alaska and her extended visits to Alaska's whaling camps and smallest villages. Source of Life celebrates Claire Fejes' work and her contributions as an Alaskan artist.